Intersolar North America, the premier solar industry exhibition and conference in America, concluded its fifth event in San Francisco, California on July 10-12, 2012. On the fascinating show, Solartech Renewable Energy Company, which dedicated in developing solar pumping technologies for 12 years, demonstrated the solar pumping system which had been applied in over 60 countries and more than 100 areas. Solartech solar pumping solution combines solar with traditional water conservancy 2 industries together, it could be used for solar agriculture irrigation, solar desert control, solar pasture animal husbandry, solar living water supply, solar seawater desalinization, solar city waterscape an so on, the system created a blue ocean market for global solar industry.
More than 950 solar enterprises and related institutions from United States, Canada, Germany, United Kingdom, Switzerland, Italy, Japan have attended the Expo. Since the PV panel price went through a substantial reduction in 2011, the installation amount of solar projects in US set a unprecedented record of 1600MW in 2011, more than double the number of 2010. Following Germany, Italy and China, US became world No.4 of solar installation country in last year. With strong growth of US solar industry, Intersolar North America has become the largest in America and the 4th largest globally among all solar exhibitions in 2012.

Rooftop projects are dominating the solar installations of US market, but the US solar industry does not stop exploring new solar applications. While governments around the world are cutting the subsidy of feed-in tariff, beyond large photovoltaic power plants and residential solar power generation systems, US solar market has urgent requirements of off-grid solar applications which could operate automatically.
Solartech solar pumping system integrates solar energy with agricultural water conservancy, system operation requires no grid power, nor diesel oil, neither batteries. The system could be used for not only desertification protection, grassland irrigation, seawater desalination, but also could apply with the existing high-tech irrigation systems in California farmlands. The commonly seen water fountains in Silicon Valley and Stanford University could also upgrade their power supply from electricity to solar by adopting Solartech pumping systems.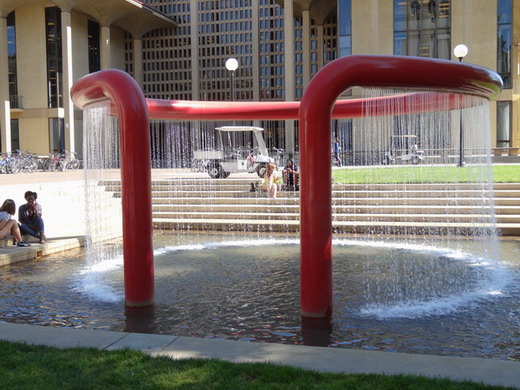 California
is the biggest solar market in North America, it's also the biggest agriculture state of US. The state government planed to turn 1/3 of its power supply to solar by 2020. To archive this goal, electricity for agriculture, especially electricity for irrigation should be replaced by solar energy. At the expo, many local companies and end customers were seeking for reliable product which could integrate solar with agriculture, and Solartech provided them the solar pumping solutions for solar water conservancy as the final answer.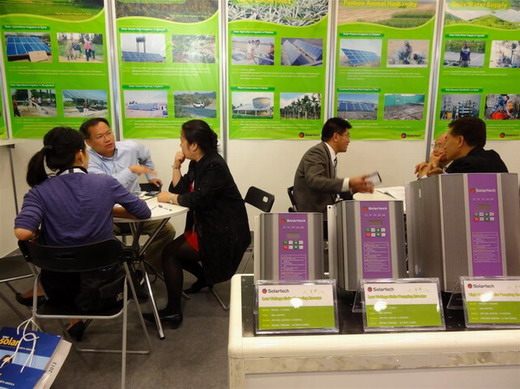 At the expo, Solartech solar pumping technical experts met professional customers came from United States, Canada, Mexico, Brazil, Columbia, Chile, as well as Asia and Africa. We discussed about the solar pumping system applications in each area of solar water conservancy.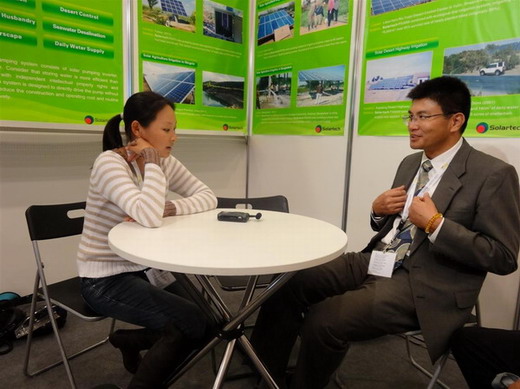 Solar pumping system control technology patent producer, Solartech Renewable Energy Chief Engineer Dr. Xu Zheng accepted an interview of UC Santa Barbara's Center for Nanotechnology. He advocated to solve the problems of irrigation and desertification by using solar energy, as a consequence, the global problems of food security and environmental safety can be solved.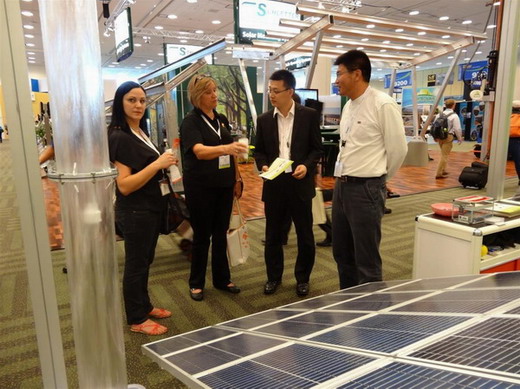 Dr. Xu Zheng, Solartech Renewable Energy Chief Engineer, Professor at Tsinghua University, introduced the green concept of Solartech products to industry clients. Regarding the projects of solar seawater desalinization, solar agricultural irrigation, desert highway protection, garden waterscape design, and swimming pool water circulation, he kindly provided his suggestions and system solutions.
Message coming from Solartech : http://www.solarech.cn/
Project Pictures