Agriculture Irrigation
As global economic integration speeds up, global population and economic scale continuously grow, serious challenges such as food problem, agriculture water conservancy, and huge energy demand have affected natural ecosystem and human development. The challenges have become so urgent that all of the world need to come together and solve them. Endeavor to avoid energy overuse and search for new paths of development has become a global consensus.

Among the policies of agriculture development in every country, speeding up the agriculture andwater conservancy construction has been put on an historical high level. Solar pumping system as the leading power for the further modern agriculture with renewable energy will be expected to join solar energy and agriculture together, setting a new era of global modern agriculture.

There are three key problems which restrict the development of agriculture and water conservancy: the first one is the limitation of the water resources itself; second, due to the inconvenience of grid power installation; third, energy shortage or poor economic condition, which causes quite a large agriculture area in places with little development due to lack of power for irrigation.

Solar energy is the infinite renewable energy with huge usages. The energy generated by sun is about 1.6×1023kW per second, 8×1013kW of them will reach surface of the earth, which is equal to 6×109 tons of coals. According to the calculation, the total annual energy generated by sun shine reaching the surface of the earth will be equal to 1.892×101.3 trillion tons of coals. It will be 10 thousand times of the main current energy reserves in global. Making use of the infinite solar energy and utilizing solar pumping system with various irrigation facilities and high-tech water saving technology can solve the energy problem of agriculture irrigation. Solar pumping system provides a lot of support for the achievements of the stable development of global agriculture, and the construction infrastructures of modern agriculture with new energy could solve the problem of Fossil energy shortage and ensuring foods safety.

According to the data from ICID (International Commission on Irrigation and Drainage) the irrigation areas are only 18% of the total planting areas in the world, but on which 40% foods in global are produced. Solving water supply problem is the key point for the development of agriculture.

Solar pumping system introduced by Shenzhen Solartech, which will be the initial solar application for agriculture irrigation、desert control、pasture husbandry, etc. In 2001, world's first solar pump system for desert sand-break irrigation system was installed and put into use. until now, system has been widely applied to more than 40 countries such as USA, Germany, Australia, UAE, India, South Africa, Uganda and so on. Solartech sets a new ground of perfectly combining solar energy with agriculture, and gains rich experiences of system solutions in different counties at various circumstances.

Solar Sprinkler Irrigation
Solar sprinkler irrigation is a combination of solar energy and sprinkler irrigation facilities; it is a method of applying irrigation water similar as rainfall. Pressed water is distributed through a pipe system, then gets sprayed into the air and irrigates entire soil surface through spray heads so that it breaks up into small water drops which fall on the ground. It is suitable for almost all field crops like food, vegetables, forestry and garden plants, etc. It is also suitable for plains and hills in warm area, as well as for spraying pesticide and fertilizing with liquids.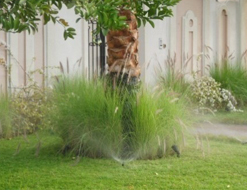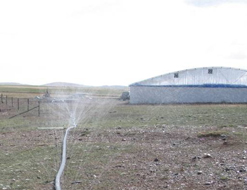 Fixed solar sprinkler irrigation for trees Portable solar sprinkler irrigation for pasture
Solar Drip Irrigation
Solar drip irrigation is a kind of irrigation taking solar energy to deliver water to the crops and using a network of mainlines, sub-mains and lateral lines with emission points spaced along the pipes. Each dripper/emitter, orifice supplies a measured, precisely controlled uniform application of water, nutrients, and other required growth substances directly into the root zone of the plant. In this way, the plant's withdrawal of moisture and nutrients are replenished almost immediately, ensuring that the plant never suffers from water stress, thus enhancing quality, its ability to achieve optimum growth and high yield.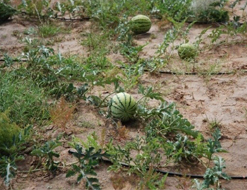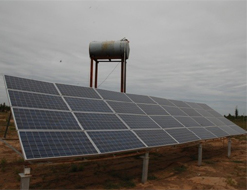 Solar pumping system used on drip irrigation Solar drip irrigation with a reservoir

Solar Micro Irrigation System
Solar micro irrigation system takes solar energy as the power to apply water through small devices. These devices deliver water onto the soil surface very near the plant or below the soil surface directly into the plant root zone. Growers, producers and landscapers have adapted micro-irrigation systems to suit their needs for precision water application. There are micro irrigating pipes which delivers water through pipes , and micro bags which called" micro irrigating reservoir".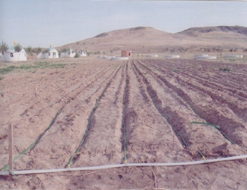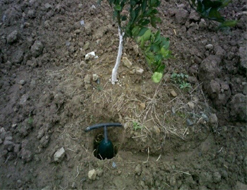 Solar micro irrigating pipes Solar micro irrigating bags

Related Solar water pump Agriculture irrigation
Guizhou Solar Pumping Agriculture Irrigation & Daily Water Supply Project
Solar Animal Husbandry and Irrigation Project in Pakistan
Indian Solar Horticulture Irrigation System
Eritrean Solar Water Conservancy Agriculture Irrigation Demonstration Project
Efficient Solar Agricultural Irrigation Project in Shandong, China
Solar Rapeseed Field Irrigation in Iran
Agricultural Irrigation in Hatunsaray Poplar Park, Istanbul,Turkey
Agriculture Irrigation in Tangail, Bangladesh Afghan Solar Irrigation System
Solar Water Pump for Agriculture Irrigation in Bangladesh
Guangxi Solar Irrigation Station
Irrigation Site in Guilin, Guangxi
Solar Agriculture Irrigation in Turkey
Solar Water Conservancy in Hainan
Economical Plant Irrigation in Turkey
Agricultural Irrigation in Ningxia Province