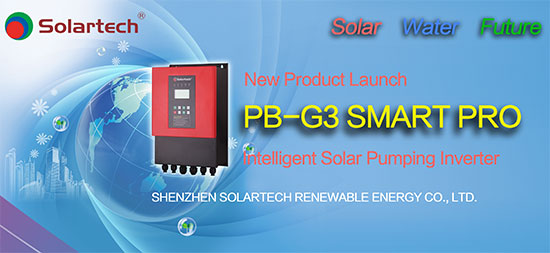 Solartech will hold an online New Product Launch PB-G3 Series Solar Pumping Inverter Solartech will hold an online New Product Launch on November 27th, 2020.
At that time, we will solemnly recommend "Solartech Smart Pro PB-G3 Solar Pumping Inverter", solartech series products and global classic application cases. At the same time, we have an exciting Luck Draw. We sincerely invite you to attend the launch!
Please send an email to sales@solartech.net.cn with your contact information. We will contact you how to participate in the event.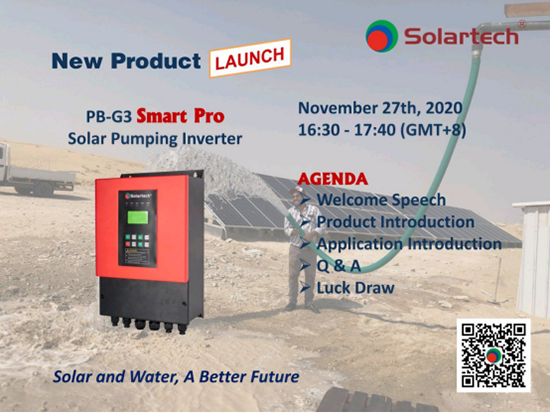 ---
Solartech
Let the World of Water Fill with Sunshine
---
About Solartech
Shenzhen Solartech Renewable Energy Co., Ltd
Solartech is the world's leading solar pumping system professional manufacturer as well as the global solar water conservancy system technology solution provider.
Solartech solar pumping system products have been applied in more than 120 countries and regions around the world in living water supply, water-saving irrigation, sea water & brackish water desalination, pasture animal husbandry, desert control and other fields.
The patented solar pumping technology which originally developed by Solartech can directly convert solar energy into photovoltaic power to drive pumps and no need power grid or energy storage batteries. It is ready for use during the day and can store water instead of electricity at night. Solartech solar pumping system technology was listed in the China Key Promotion Guidance Catalog of Advanced Water Conservancy Technologies by the Ministry of Water Resources in 2011 and awarded the United Nations Global Human Settlements Model of Green Technology in 2014.